Richard Schlegel, MD, PhD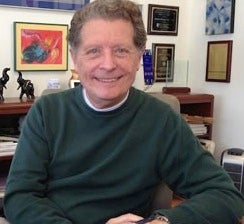 Professor and Chair
Department of Pathology
Georgetown University Medical Center
113 Basic Science Building
3900 Reservoir Road, NW
Washington, DC 20057
Phone: 202 687-1704
Fax: 202 687-8934
schleger@georgetown.edu
http://hometown.aol.com/schlgl/schlegelresearch.html
Research Interests
Viral oncology; cervical cancer; epithelial cell immortalization; telomerase; Myc
Research Summary
The research in our laboratory focuses on the role of human papillomaviruses (HPVs) in the development of cervical cancer in women. More specifically, we are examining the molecular mechanisms by which the HPV oncoproteins alter the growth and differentiation of cervical cells, with special emphasis on their ability to induce immortalization. While papillomaviruses infect both men and women, the transforming activity of papillomaviruses is specifically enhanced by estrogens, making women particularly sensitive to the development of cancer. Indeed, in transgenic mouse models, estrogen is required for the development of these genital cancers. In addition, we have been studying the E6 protein of the papillomaviruses which induces cellular telomerase, thereby facilitating cell immortalization. One of the telomerase genes, hTERT, is also activated by estrogens and might provide an additional explanation for sex-related differences in the development of genital cancers due to papillomavirus.
Representative Publications
Veldman T, Horikawa I, Barrett JC, Schlegel R. Transcriptional activation of the telomerase hTERT gene by human papillomavirus type 16 E6 oncoprotein. J Virol. 75(9):4467-72, 2001.

Carr EA, Theon AP, Madewell BR, Hitchcock ME, Schlegel R, Schiller JT. Expression of a transforming gene (E5) of bovine papillomavirus in sarcoids obtained from horses. Am J Vet Res. 62(8):1212-7, 2001
Suprynowicz, F., Baege, A., Sunitha, I., and Schlegel, R. c-src activation by the E5 oncoprotein enables transformation independently of PDGF receptor activation. Oncogene 21(11):1695-706, 2002.
Sherman L, Itzhaki H, Jackman A, Chen JJ, Koval D, Schlegel R. Inhibition of Serum- and Calcium Induced Terminal Differentiation of Human Keratinocytes by HPV 16 E6: Study of the Association with p53 Degradation, Inhibition of p53 Transactivation, and Binding to E6BP. Virology 292(2):309-20, 2002.
Baege, A., Berger, A., Schlegel, R., Veldman, T., and Schlegel, R. Cervical epithelial cells transduced with the papillomavirus E6/E7 oncogenes maintain stable levels of oncoprotein expression but exhibit progressive, major increases in hTERT gene expression and telomerase activity. Am. J. Pathol., 160: 1251-1257, 2002.
Simbulan-Rosenthal, C.M., Velena, A., Veldman, T., Schlegel, R., and Rosenthal, D.S. HPV E6/E7 immortalization sensitizes human keratinocytes to UVB by altering the pathway from caspase-8 to caspase-9-dependent apoptosis. J. Biol. Chem. 277:24709-24716, 2002.
Yuan, H., Veldman, T., Rundell, K, and Schlegel, R. SV-40 small tumor antigen activates AKT and telomerase and induces anchorage-independent growth of human epithelial cells. J. Virol. 76(21): 10685-91, 2002.
Rosenthal, D.S., Velena, A., Chou, F.P., Schlegel, R., Ray, R., Benton, B., Anderson, D., Smith, W.J., Simbulan-Rosenthal, C.M. Expression of dominant-negative FADD blocks human keratinocyte apoptosis and vesication induced by sulfur mustard. J. Biol. Chem. Mar 7;278(10):8531-40, 2003.