Paul S. Aisen, MD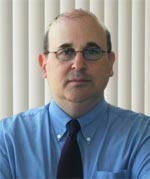 Professor
Vice Chair and Professor
Departments of Neurology and Medicine
Georgetown University Medical Center
207B Building D
4000 Reservoir Rd, NW
Washington, DC 20057
Phone: 202 687-7337
Fax: 202 784-4332
Memory Disorders Program: 202 784-6671
psa@georgetown.edu
http://matsuokalab.georgetown.edu/aisen.html
Research Interests
Drug development in Alzheimer's disease
Research Summary
More women than men are diagnosed with Alzheimer's Disease (AD), and recent studies have indicated a link between the loss of estrogen associated with menopause and onset of the disease, with some studies further stating that estrogen treatments may improve symptoms or slow decline in women with AD. The broad goal of our research program is to develop new, effective therapies for Alzheimer's disease and related disorders. Research studies ranging from cell biology and animal models of neurodegeneration to genetics and epidemiology have identified a number of attractive targets for therapeutic intervention. We are currently leading several NIH-funded multicenter therapeutic trials; in addition, we are collaborating with several pharmaceutical companies on drug development. Novel treatments currently under investigation in our program include vitamins, anti-inflammatory drugs, antioxidants, anti-amyloid compounds and NMDA receptor antagonists.
Representative Publications
Aisen PS, Schmeidler J, Pasinetti GM. Randomized Pilot Study of Nimesulide Treatment in Alzheimer's Disease. Neurology, 58: 1050-54, 2002.
Aisen PS. The potential of anti-inflammatory drugs for the treatment of Alzheimer's disease. Lancet Neurology, 1: 279-284, 2002.
Aisen PS, Berg JD, Craft S, Peskind ER, Sano M, Teri M, Mulnard R, Thomas RG, LJ Thal for the Alzheimer's Disease Cooperative Study. Steroid-induced elevation of glucose in Alzheimer's disease: relationship to gender, apolipoprotein E genotype and cognition. Psychoneuroendocrinology, 28:113-120, 2003.
Aisen PS, Egelko S, Andrews H, Diaz-Arrastia R, Weiner M, DeCarli C, Jagust W, Miller JW, Green R, Bell K, Sano M. A Pilot Study of Vitamins to Lower Plasma Homocysteine in Alzheimer's Disease. American Journal of Geriatric Psychiatry, 11: 246-9, 2003.
Aisen PS, Schafer K, Grundman M, Pfeiffer E, Sano M, Davis KL, Farlow M, Jin S, Thomas R, Thal LJ for the Alzheimer's Disease Cooperative Study. Results of a Multicenter Trial of Rofecoxib and Naproxen in Alzheimer's Disease. JAMA, in revision.