Mary A. Young, MD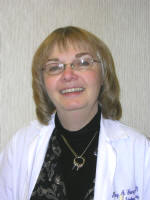 Assistant Professor
Division of Infectious Diseases
Director, Women's Interagency HIV Study
110 Kober-Cogan
3900 Reservoir Road, NW
Washington, DC 20057
Phone: 202 687-6845
Fax: 202 687-6476
youngma@georgetown.edu
https://statepiaps.jhsph.edu/wihs
Research Interests
The clinical, laboratory and psychosocial aspects of HIV in women with emphasis on the metabolic changes occurring as a result of the use of highly active antiretrovirals (HAART).
Research Summary
The Women's Interagency HIV Study (WIHS) was established in August of 1993 to carry out comprehensive investigations of the impact of HIV in women. In addition, changes in the natural history of the disease and its associated conditions occurring as a result of treatment advances and longer survival are monitored. The study is a prospective national study funded by the NIH through multiple of its institutes. A total of 2,641 women (2066 HIV positive and 575 negative), 80% of minority background are enrolled. Locally at 5 sites in the Washington metropolitan area, a total of 400 women are followed with visits every 6 months, which include a detailed medical and psychosocial history, laboratory determinants and a physical exam with a full gynecologic exam with specimen collection. Specimens that include cells, serum, plasma, cervicovaginal lavage fluid and urine are stored both locally and in a NIAID funded national repository. A number of linked RO-1's have been funded to further investigation into human papilloma virus, dynamics of virologic rebound and resistance, Hepatitis C, AIDS associated malignancies etc. Local scientific intitiatives have included collaborations on chemokines in HIV, iron status and survival, cardiovascular risk factors, and the utility of serum measurements of mitochondrial DNA as a predictor of metabolic abnormalities.
Representative Publications
Tien P, Grunfeld C, Williams C, Young M, Anastos K, Cohen M, et al. Incidence of lipoatrophy and lipohypertrophy in the Women' Interagency HIV Study. In Submission.
Young M, Clarke R, "Selected Issues in the Treatment of Women Infected with HIV" HIV and Pregnancy edited by Minkoff H. Clincal Obstetrics and Gynecology. 2001;Vol 44:2:167-182.
Adieh,GL, Silverberg M, Palacio H, Minkoff H, Anastos K, Young, M, Cohen H, and Munoz A. Disontinuation of potent antiretroviral therapy: predictive value of and impact on CD4 cell counts and HIV RNA levels. AIDS 2002;15:2101-21-0.
Anastos K, Barron Y, Miotti P, Weister B, Young M, Hessol N, LevineA, and Munoz A. Risk of progression to AIDS and death in Women Infected with HIV-1 Initiating Highly Active Antiretroviral Treatment at Different Stages of Disease. Arch Int Med 2002;162:1973-1980.
Cook JA, Cohen M, Burke J, Grey D, Wilson TE, and Young M. Effects of depressive symptoms and mental health quality of life on use of highly active antiretroviral therapy in a cohort of HIV seroposiive women. Am J Public Health 2002: 92:82-87.