Deborah Tannen, PhD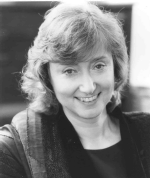 University Professor Department of Linguistics
Georgetown University
471 ICC, Box 571051
3900 Reservoir Road, NW
Washington, DC 20057
Phone: 202 687-5910
Fax: 202 687-2637
tannend@georgetown.edu
explore.georgetown.edu/people/tannend
www.deborahtannen.com
Research Interests
Gender differences in language use
Research Summary
Conversations between women and men can be regarded, metaphorically, as cross-cultural communication. Boys and girls learn ways of speaking as children at play with other children of the same sex, with the result that as adults men and women have different senses of how to use language in interaction. Differences include physical orientation (in informal conversations, women tend to sit face to face and lean toward each other, while men tend to sit at angles or parallel and look around the room); women tend to give more listener cues, such as "mhm, yeah, uhuh." Both these patterns result in women feeling men aren't listening and, in the case of listener cues, men feeling women are rushing them along; women tend to value having their experience validated while men tend to focus more quickly on what actions they should take. All these patterns, and many more, differ by cultural background as well as gender. Understanding how gender differences in communication affect doctor-patient interaction is crucial to understanding and improving diagnosis, outcomes and compliance in interactions in medical contexts.
Representative Publications
You Just Don't Understand: Women and Men in Conversation. New York: Morrow, 1990. Paperback: Ballantine. (translated into 29 languages)
Talking from 9 to 5: How Women's and Men's Conversational Styles Affect Who Gets Heard, Who Gets Credit, and What Gets Done at Work. NY: Morrow, 1994. Paperback Avon, 1995.
Gender and Discourse. NY & Oxford: Oxford University Press, 1994.
"Gender and Family Interaction," Handbook on Language and Gender ed. by Janet Holmes and Miriam Meyerhoff. Cambridge, MA and Oxford, UK: Basil Blackwell, 2003.
"Discourse and Gender." The Handbook of Discourse Analysis, ed. by Deborah Schiffrin, Deborah Tannen, and Heidi E. Hamilton, pp. 548-567. Cambridge, MA and Oxford, UK: Blackwell, 2001. (with Shari Kendall).