Adam Myers, PhD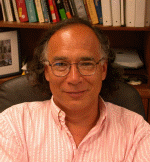 Professor
Department of Physiology and Biophysics
Georgetown University School of Medicine
207 Basic Science Building, Box 571460
3900 Reservoir Rd, NW
Washington, DC 20057-1460
Phone: 202 687-1766
Fax: 202 687-7407
myersa@georgetown.edu
Research Interests:
Regulation of hemostasis and vascular function in normal function and disease
Research Summary:
We have had a long-standing interest in sex differences in cardiovascular disease and how male and female steroidal hormones affect vascular and hemostatic responses in disease states. Hemostatic studies have focused on effects of hormones on platelet function. Other studies performed in collaboration with YD Kim of the Department of Anesthesia have focused on the effects of estrogen on vascular & cardiac function and free radical systems, as they relate to coronary heart disease. Another area of study is the effects of alcohol ingestion on hemostatic function and its role in the beneficial effects of alcoholic beverage consumption on risk of coronary events.
Representative publications:
Myers A, Papadopoulos A, O'Day D, Ramey E, Ramwell PW, Penhos JC. Sexual differentiation of arachidonate toxicity in mice. J Pharmacol Exp Ther 222:315-318, 1982.
Ramwell P, Karanian J, Maggi F, Myers A, Penhos J, Watkins W, Ramey E. Gonadal steroid regulation of vascular arachidonate metabolites. Adv Protaglandin Thromboxane Leukotriene Res 11:229-234, 1983.
Torres Duarte AP, Ramwell PW, Myers AK. Sex differences in mouse platelet aggregation. Thromb Res 43:33-39, 1986.
Ramwell PW, Myers A, Foegh, M. Effects of 17b-estradiol in cardiovascular models. Postgrad Med (Special Report on Long-Term Effects of Estrogen Deprivation), 74-77, 1989.
Williams K, Kim YD, Ming-Hong P, Myers AK, Ramwell PW, Adams M. Effects of estrogen on cardiovascular responses of premenopausal primates. J Pharmacol Exp Ther 271:671-676, 1994.
Kim TD, Chen B, Beauregard J, Kouretas P, Thomas G, Farhat MY, Myers AK, Lees DE. 17B-Estradiol prevents dysfunction of canine coronary endothelium and myocardium and reperfusion arrhythmias after brief ischemia/reperfusion. Circulation 94:2901-2908, 1996.
Dimitrova KR, DeGroot K, Myers AK, Kim YD. Estrogen and homocysteine. Cardiovasc Res 53:577-588, 2002.
Dimitrova KR, DeGroot KW, Pacquing AM, Suyderhoud JP, Pirovic EA, Munro TJ, Wieneke JA, Myers AK, Kim YD. Estradiol prevents homocysteine-induced endothelial injury in male rats. Card Res 53:589-596, 2002.